Several years back when I was newly divorced, had just left my job and was building a new life for myself and my kids, I met my friend Jayne. Our serendipitous meeting left us instant friends when we both discovered we were on nearly the same exact path.
We both had left our jobs, were divorced/single moms, broke, healing our past, and losing and shifting many friendships in the process. We began supporting each other every day with inspiring texts or examples of what we were learning through facing our fears. Our motto: Trust Yourself, Trust the Process. And like every other human, we wanted proof we could.
Jayne was the first person I text when I was inspired to write 30 Days to Me. She even wrote affirmations for each day I wanted to include. She cheerlead me through the process and I relied on her wisdom and love. I trusted her guidance and support completely.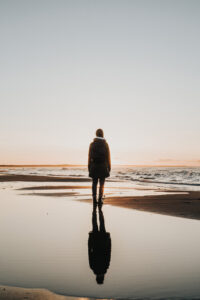 A year into knowing and growing with Jayne, she died in her sleep. The night she died we spent the evening together prepping for a group and sharing how magical life was. I wasn't just crushed, I was terrified.
My biggest fear was that all I believed I could trust was a lie. I trusted Jayne was who I would work with for the long haul. I trusted she would continue to guide me when I was lost. I trusted I could fully rely on her support and wisdom and in one instant- she was gone.
The pain of the loss scared the shit out of me, and my old fears of attachment came rushing back in. I didn't want to get to close to anyone ever again.
Yet, what if I hadn't trusted myself to befriend this earth angel? My intuition assured me she was meant to be my friend. What if I never let myself get close to her?
I would not have had a bold cheerleader to inspire me to share my story. I would not have followed through writing a book that I knew would be helpful for others, as well as for me. I would not have connected with the strength inside me to keep trusting myself and my path- even when it hurt like hell.
And the truth is, in many ways, Jayne never left me. Her angelic presence still works with me, as I believed she would. Her words, forever etched in mind, remind me to trust myself and the process. Her unexpected exit reminds me to live in the moment because you truly don't know what is going to happen next.
These are the stories I remind myself when I'm in an uncomfortable place not fully trusting what direction to go. They allow me to pause and know that whatever happens, and whatever I choose, I'm going to be okay. We all have these stories- many of them.
Here's a reminder- everything we experience is meant to teach us something. The joy, the pain, the hope, the disappointment- all of it.
Some of it feels amazing and we want more. Some of it sucks and we want to forget it ever happened. Yet all of it is part of our experience of how to truly LIVE.
I often hear people say they can't trust themselves because their choices bring them down a road that was painful. Yet what did that pain teach you? Where did it lead you? What door opened when another closed?
Pain is meant to help us open our eyes, not close them.
What are the experiences you've had that stopped you in your tracks and fed your fear? Is that fear still leading the way?
What fear is currently holding you back from living? Why are you scared to trust yourself? What would your life look like if you let your deepest desires lead over your fear?
Spend a few minutes sitting with these questions to see what it is your heart wants you to know.
Lynn Reilly is a Licensed Professional Counselor, Master Energy Therapist, and Author of her self-care book 30 Days to Me.