Our first transition to a new location…we are in Medellin Colombia!
Anyone that knows me understands my ferocious curiosity, and this city is quenching that thirst. In my own hometown, I may not be as likely to take the time to understand about those so different from myself. My first tour in Medellin, I was fascinated to learn a bit about Medellin's LGBTIQ+, particularly the nightlife of Las Comadrágs. They cross-dress their beautiful bodies to express themselves across gender definitions. One of which is Abraxas, she houses the largest collage museum in the world. The Museo is exquisite and absolutely like nothing I have ever seen before. Rooms and rooms of paper collaged work, mirrors, CDs, and object d'art created from anything one could imagine. Plenty of it was erotic in nature, but I also saw amazing fashion, geometric patterns, and fantastic color combinations- a feast for the creative eye! The night went on to include a unique hotel viewing and a gay bar complete with drag show. I am out of my little corner for sure and it is captivating.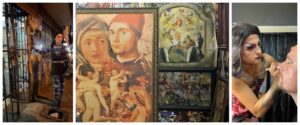 Medellin is known as the city of Eternal Spring, and everyone is welcoming the warm tropical weather and seeing the sun. It is rainy season, so most days there is a shower, usually only lasting a short time. As well as the weather, the living situation is quite different from Lima, although most of us have roommates, each set of us are in separate apartment buildings. We live in the Poblano District of Medellin. An upscale section that is lovely. The very walkable, calf-building hilly city is in a green jungle, gorgeous and lush. The river runs right through the city. My walk to the workspace starts out serene and residential, including a stream and a park with an outdoor gym, next I hit the lively part with tons of cafes, shops, restaurants and bars. Each one livelier than the next. I am greeted with murals, graffiti, flower and fruit stands.
It's a delight.
Acclimating much better after the second city tour, Corner-to-Corner. We used all the Metro including rail, cable car, and bus. A walk and a few rails to get to the cable cars that then provided a beautiful view of Parque Arvi. The ecotourism park is a natural wealth of Medellin and declared a protective forest reserve in 1970. At the top, we enjoyed the park's beauty, a market with local crafts, a yummy coffee and hand-made chocolates. I would love to return to spend some time hiking the park. I enjoyed the cable ride down as much as up and was excited to go to a very traditional Columbian restaurant for lunch.
First served at lunch was refajo (a cocktail of beer and Columbian soda). I am not a lover of beer or soda drinks but found this delicious and refreshing. Many ordered the traditional Columbian dish -Bandeja Paisa. It is not for the faint of heart or stomach, as it is a huge meal and contains steak, chicharron (pork crackling), chorizo, a fried egg, rice, beans, plantain, arepa and avocado. I opted for the fish, salad and avocado. I am unsure of the food scene here for my taste, especially after how much I enjoyed Peru…we will see.
Next, we heard to the heart of the city to Plaza Botera, where the 23 whimsical sculptures by Colombian artist Fernando Botero reside. He graciously donated the huge statues as well as more in the nearby museum. The city brought more sites of art and gorgeous buildings of striking architectural interest. Just when I thought my senses were satiated, we get on a bus to an entirely different section of the city.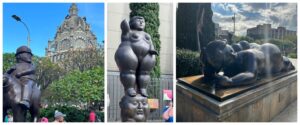 I vividly remember hearing in the 1980's and early 90's of the Escobar era and never imagined that I'd want to spend time in what most considered a very dangerous place. The next exploration was Comuna13, once considered the most dangerous neighborhoods in the world, run by violent drug trafficking organizations. In 2002, a controversial operation was launched by the government. The next decade began a positive regrowth for the area. In 2011, an escalator system was installed, connecting the hillside to the city. The result is a creation of the most artful, colorful districts in Medellin. Murals, graffiti and street art decorate every inch of the place. The residents are rejoicing in their brighter future, it feels like a happy place!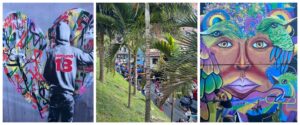 I can clearly tell you that Colombia was not on my bucket list, some of the guides talk of the stigma that still lingers. Right now…it is one of my favorites. I am grateful that this trip has opened my mind in so many ways and that I am getting to explore one of the most beautiful places in Latin America. I wonder what the current world would be like if more of us could be open to appreciate and see the beauty in what is different. We do not have to relate, or want to be like that culture but to understand and appreciate the contrast is a beautiful way of life.
Kathy Elliott is a recent empty-nester and entrepreneur who shares her stories of a year-long journey around the world with 23 strangers. Follow along to discover the insights, wisdom, and understanding she gains from the adventure. Follow Kathy at IG @iamkathyelliott.